​
Christmas 2015 and New Year 2016 Alterations to Public Transport Services
Posted on December 20, 2015
Reading time: 4 minutes.
​
It is coming a bit late this year but here is my Yuletide and New Year summary of public transport services for 2015/6. Items will get added as I find them so it is worth returning here time and again throughout the festive season.
While some operators have left their Christmas and New Year service pages with the same addresses as last year, most leave them as fleeting seasonal items. The exceptions include High Peak Buses, Arriva Trains Wales and London Midland and there is something to be said for that. Otherwise, I am gathering together what has come my way so you can go on yours. Some like Arriva may have a hub for their bus services where you can start your search for information on their Christmas and New Year services but most are regional and that is how I have arranged things here.
Wales
Traveline Cymru again has their service summary posted online. Information for most major bus companies is included and there are plenty of links included if you need to find out more. Edwards' service changes are below and Cardiff Bus's Park and Ride service changes are online as are those affecting Arriva bus services, First buses in south & west Wales and anything operated by GHA Coaches.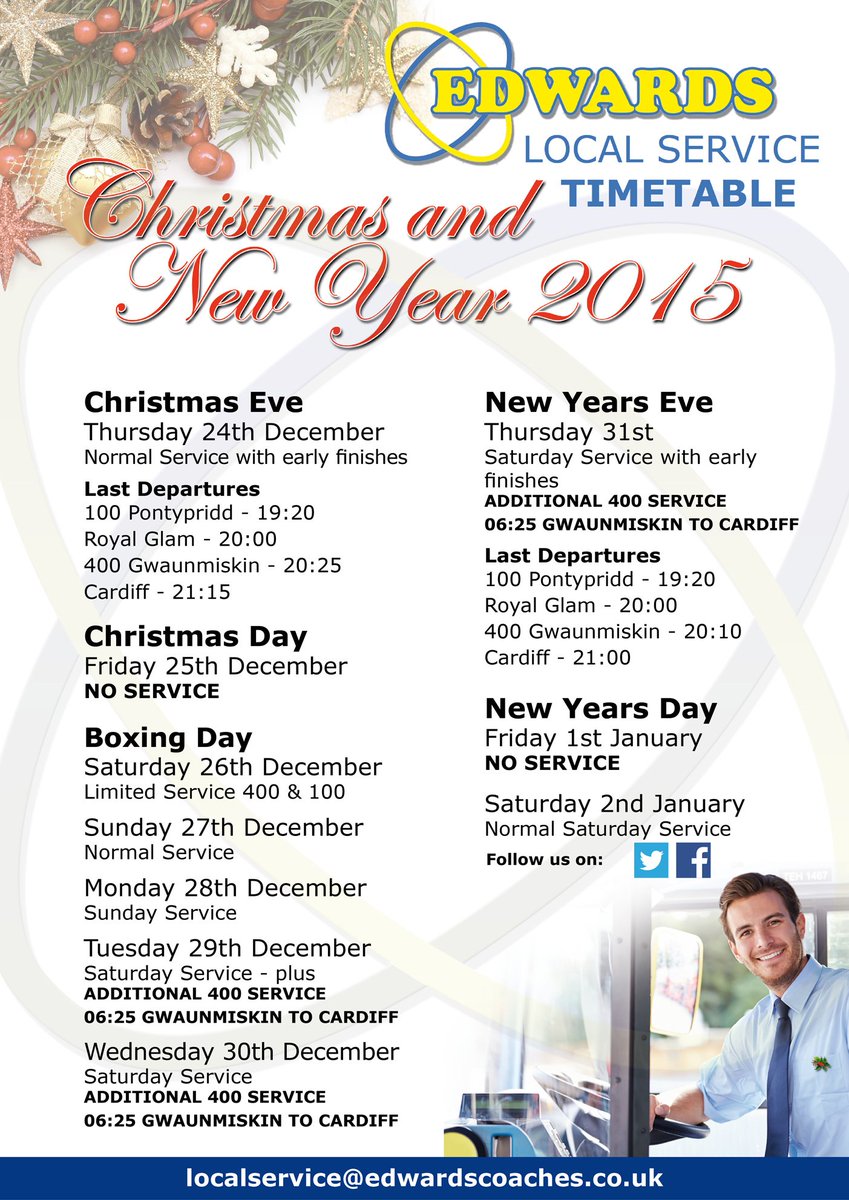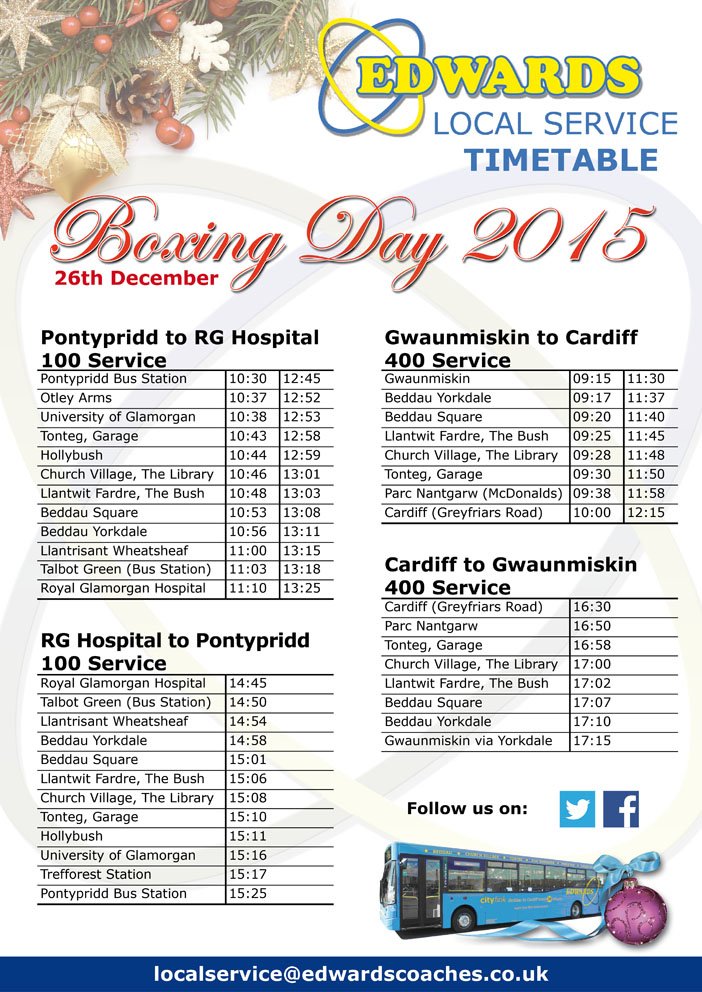 Merseyside
Merseytravel has their usual service round-up for the time of year and some free buses are running on Christmas day too. Services finish early on both Christmas Eve and New Year's Eve while New Year's Day sees only limited services.
Greater Manchester
Services see limitations in Manchester too so TfGM has published a useful summary guide. Bus services are limited on Christmas Day, Boxing Day and New Year's Day while train services pay less heed to the start of 2016 than Christmas because it is seen as an opportunity for engineering works. As you might expect, Stagecoach Manchester has a special timetable in operation from 2015-12-21 to 2016-01-01 inclusive while both Arriva and First have their service changes too. All is back to normal from the second day of 2016.
Yorkshire
Here, First have listed what is happening with their bus services by area: Bradford, Huddersfield, Halifax & Calder Valley, Leeds, Sheffield, Rotherham, Doncaster and York. Travel South Yorkshire and Metro in West Yorkshire are other good places to look since they are transport authorities and cover more than one mode of transport.
Northeast England
In the English northeast, Nexus, Go Northeast, Arriva and Stagecoach have information on what you can expect of public transport over the festive period. Of course, Nexus is the local transport authority so everything you need to know about journeys on local trains, buses and ferries should be there.
English Midlands
In the English Midlands, Arriva and D&G Bus have announced what is happening with their bus services. National Express West Midlands has done the same and Network West Midlands have more details for their region so other bus companies and modes of transport are covered. First operate buses in several areas and they have split things up more: Leicester, Staffordshire & North Staffordshire and Worcestershire.
Southern England
Oxford Bus Company still have some services running on both Christmas Day and New Year's but these run to Heathrow and Gatwick airports so services otherwise are limited. Keeping with the airport theme, Stansted Citylink is operating throughout the season with only Christmas Day seeing no services at all. Both Arriva and Yellow Buses also have their seasonal service levels published for customers to check and First have done the same for their Berkshire,  Bristol, Bath & the West, Cornwall, Essex, Norfolk & Suffolk, Solent, Somerset, Southampton and Wessex operations.
Scotland
In Scotland, Lothian Buses have a Christmas & New Year timetable. First have posted their details for Aberdeen, Greater Glasgow and Southeast & Central Scotland so those are worth a look if you live in their areas. Scottish Citylink has a seasonal service summary to be surveyed by those travelling further afield on their services.
Ireland
Irish Citylink is keeping things like last year with only Christmas Day seeing no service at all. Bus Eireann, Dublin Bus, Northern Ireland Railways and Irish Rail all have their service summaries published online. There are some extra services in the run-up to Christmas and for New Year's Eve too so it is not all about service level reductions.
Train Services across England and Beyond
Since there is a lot of engineering work planned, National Rail has a portal showing the effect these will have on services. For instance, anyone travelling to Heathrow, Gatwick, Scunthorpe, Cleethorpes and Barton-on-Humber will need to take note. Concerning three of these, Transpennine Express also have details of the impact of upgrade work on the Greater Lincolnshire Railway. Likewise, East Midlands Trains has a summary showing the effects that these are having on their services. Abellio Greater Anglia have their own service changes for much the same reasons.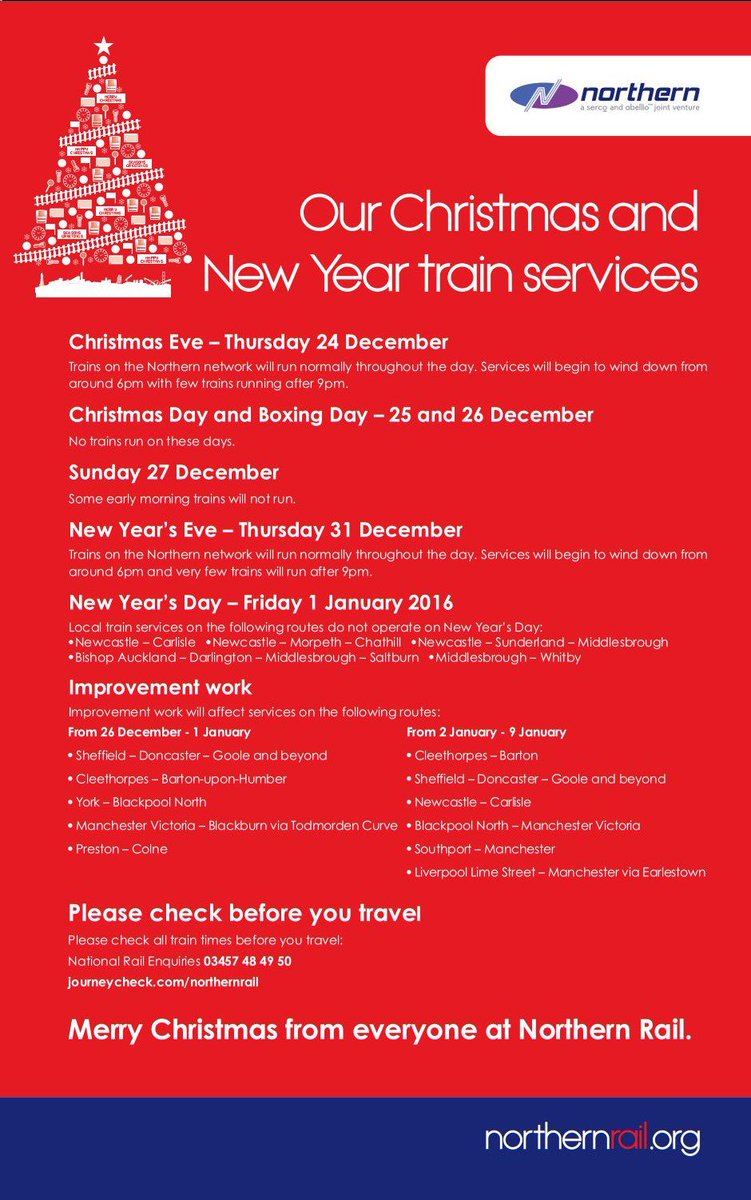 Northern Rail also has a service summary and have been posting images like the above to reinforce the messages. Anyone flying into the likes of Manchester Airport will need to use taxis for onward travel unless they have someone picking them up.
Another innovation appears on the CrossCountry service summary. In addition to the usual service summary, there also is a seat availability chart and Sunday 27/12 already looks busy at the time of writing.